Creativity - Notes from Carol de Giere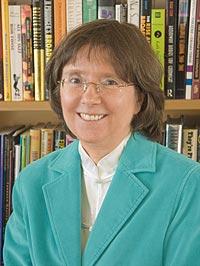 On this page you will find annotated references to my favorite creativity books. Below those are notes about one of my favorite topics: creativity.
Essential Creativity Books

The Creative Habit: Learn It and Use It for Life
In her The New York Times bestselling book, choreographer Twyla Tharp shares insights about living the creative life. Her memoir style makes for fun reading. Everything is based on her many years of experience as an artist who works with other artists. Her chapter "An 'A' for Failure" provides lessons in how to turn bad experiences into positive lessons for further growth.

Julia Cameron, The Artist's Way, [link goes to a selection of Julia Cameron books]
Julia Cameron's book The Artist's Way has helped inspire thousands of artistic people to pursue their creative dreams. When I read it in the mid 1990s, I began to take my writing seriously, and focused on my long-term dream of a freelance writing career.
I recommend all of Julia's books and tapes, including the The Right to Write
and others. She also teaches in New York at the Open Center, Learning Annex, and Omega Institute from time to time.

Thinking Like Your Editor How to Write Great Serious Nonfiction--and Get It Published by Susan Rabiner and Alfred Fortunato
Some book editors recommend this to would-be authors. Filled with trade secrets, Thinking Like Your Editor explains:
Why every proposal should ask and answer five key questions
how to tailor academic writing to a general reader, without losing ideas or dumbing down your work
how to write a proposal that editors cannot ignore
why the most important chapter is your introduction
why "simple structure, complex ideas" is the mantra for creating serious nonfiction
why smart nonfiction editors regularly reject great writing but find new arguments irresistible.


Story by Robert McKee
This book is worth buying for the diagrams alone. It really helps you appreciate story structures for films and plays. In Story, McKee expands on the concepts he teaches in his $450 seminars (considered a must by industry insiders), providing readers with the most comprehensive, integrated explanation of the craft of writing for the screen. McKee understands how all the elements of a screenplay fit together.
I really recommend hearing McKee, to experience his style and flair for conveying his points. My husband and I have listened to the cassettes on many long car trips.

Natalie Goldberg - Writing Down the Bones and other books [Link goes to a selection of her books about writing]
Writing Down the Bones
Wild Mind : Living the Writer's Life
Thunder and Lightning : Cracking Open the Writer's Craft
The Essential Writer's Notebook
I also recommend her audiobooks. It's great fun to follow some of her exercises. If you are a writer and haven't read her book Wild Mind: Living the Writer's Life
, you may find it quite helpful.

Word Painting
. Rebecca McClanahan, whose descriptive writing workshop I've attended, packs her valuable writing advice into Word Painting: A Guide to Writing More Descriptively (Paperback). Rebecca's comments are useful for fiction writers, poets, lyricists, and narrative nonfiction writers.

Creativity for Life: Practical Advice on the Artist's Personality, and Career from America's Foremost Creativity Coach
Eric Maisel approaches lessons in the creative life on the basis of his many years experience as therapist for artistic people and a creativity coach. He provides many lists and angles for considering to make a creative life work.
As one Amazon.com reviewer explains: In CREATIVITY FOR LIFE, Maisel brings together concepts and ideas he's discussed in previous books, but here every part is synthesized and complete. It's a smorgasbord of examples and tactics. He breaks new ground in detailing the artist's personality in ways that that the non-psychologist reader will instantly understand, and the book is highly accessible to anyone from beginner to master.
He includes chapters on creative blocks and resistances, moods, the artistic personality, etc.
Note: New ePublishing LLC, the company that operates this website, is a participant in the Amazon Services LLC Associates Program, an affiliate advertising program designed to provide a means for sites to earn advertising fees by advertising and linking to Amazon.com.
Creativity Notes
Creativity is the impulse of life. When we create, we become meaning-makers who can enrich our own lives and the lives of others.
While interviewing Broadway and film composer Stephen Schwartz and his colleagues for my book Defying Gravity: The Creative Career of Stephen Schwartz, from Godspell to Wicked, I was fascinated to discover the ways his creative process informed my own. I searched for principles that might link our work. I also drew from the ideas in the books mentioned below, like Julia Cameron's The Artist's Way.
Deyfing Gravity includes thirty creativity notes. Here are a few of the topics covered, along with additional reflections:
Adventure and Risk:
Do creative people need to be risk takers? Schwartz considers himself an adventurer rather than a risk taker per se. But he is always seeking some new ground to cover or a new artistic experience.
Creative Blocks and Rewrites:
While interviewing Disney's Academy Award-winning songwriter, Alan Menken, for the book, I asked if he experienced any creative blocks. He surprised me by saying, "I don't really have creative blocks if I have the right assignment. I can have big creative blocks if I have the wrong assignment. That's not a creative block—that's just a logical block, you know what I mean? If you have the wrong assignment, it doesn't make for a good song. You cannot write a song out of thin air. There's got to be an emotion behind it, a style behind it, tension behind it." That it doesn't mean you get the best solution right away, even with "the right asignment." Menken says, "Our job as musical dramatists is more to rewrite than to write."
It's often said that writing is more rewriting. That's certainly true for my work, and I found it encouraging to hear that confirmed by people at the highest level of artistic achievement.
A Working Process That Connects With Feeling
Stephen Schwartz's music is often strongly emotional and moving. I learned that he normally writes songs at the piano (as opposed to writing music on paper away from piano, as some composers do). When we discussed this topic, he said, ""For me, the emotion comes out through my fingers on the keyboard."
Writers who use language rather than music to communicate often struggle with connecting to their feelings. A word on a page doesn't provide emotional resonances the way a chord on a piano might.
I remember being helped by Natalie Goldberg. Wild Mind: Living the Writer's Life
(p. 73), she advises writers to warm up with regular writing practice. If they feel they are treading water, they can stop mid sentence, add a dash, and write— "What I really want to say is" and then proceed. Says Goldberg, "It allows you to drop to a deeper level...It's a device to help you connect with what is going on inside."
Creating Character Through Realistic Detail
One of the people I interviewed for the book was Craig Carnelia, who provided some poignant songs for the musical Working based on Studs Terkel's book Working. Craig loved going over Terkel's interviews of working people in order to find material for songs. Craig told me: "One of the things [Terkel's Working] taught me is that people reveal their biggest truths in small ways. People are speaking about what they had for breakfast; 'And then I went to see my wife's grave, and I had some peanut brittle.' The whole book is full of the biggest and the littlest juxtaposed in the most innocent way and in the way that people actually do, as opposed to a kind of musical theatre that lives in overstatement or that lives in declaration...."
God is in the details. Especially in writing.
Dealing With Criticism
About half way through my book writing endevour, I sent a rough draft of a section to an acquiantance who wrote back all the many things he thought were wrong with it. That really set me back emotionally for a while. In an email to Stephen Schwartz, I mentioned how discouraged I felt. He wrote me an answer about facing criticism that was helpful as well as appropriate for one segment of his life. I put it right into the book. You'll see it on page 183 of the printed version or by searching on "Dealing with Crticism" in the electronic version.
More
I also cover such topics as: Standing on the Shoulders of Giants: Following Models, Subterranean Ways - about using the subconscious mind, Surviving Bad Drafts and Endless Rewrites, the Playfulness Factor (about the importance of play to the creative process), Timing for Going Public, and others. Again, this is all in my book Defying Gravity: The Creative Career of Stephen Schwartz, from Godspell to Wicked.