Carol de Giere
Writing about Creativity and Musicals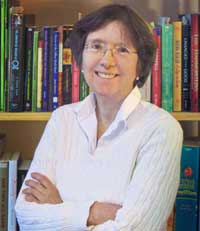 Hello from Carol de Giere and welcome to my home page online. ("de Giere" is pronounced with a soft G and rhymes with Pierre)
Author
I'm the author of two nonfiction books that give readers a behind-the-scenes look at the making of musicals.
1) Defying Gravity: The Creative Career of Stephen Schwartz, from Godspell to Wicked - the authorized career biography on Broadway and film composer-lyricist Stephen Schwartz:
2). The Godspell Experience: Inside a Transformative Musical - a book about the creativity behind Godspell.
Both books are based on my extensive interviews with Stephen Schwartz, cast members, and creative colleagues.
Newsletter Editor & Publisher
I'm the editor and publisher for the following newsletters
"Musical Writerzine," is a newsletter-ezine that is part of my website MusicalWriters.com. I started the newsletter with book writer-lyricist William Squier. The Musical Writerzine updates subscribers on opportunities for submitting new musicals to theaters or festivals. It also includes in-depth articles about theaters that produce new musicals.
The Schwartz Scene newsletter - The Schwartz Scene is a quarterly newsletter-ezine that covers news from Stephen Schwartz's musical world. When he has time, Stephen writes updates for this newsletter.
New Musicals Evaluator
I provide feedback on new musicals based on the script and song samples. This service is ideal for musical writers who want a second opinion early in a show's development process, and suggestions on what to do next. See my Musicalwriters.com site details on these evaluations (along with listings of other evaluators): MusicalWriters.com - Critiques
I also serve as the "curator" of new musicals for the Brookfield Theatre for the Arts, evaluating new works for potential readings. See New Musicals at the Brookfield Theatre for the Arts for more information.
Article Writer for Blogs and Online Publications
See the Articles page on this website.
Website Publisher
www.MusicalWriters.com - This website is for musical theatre composers, lyricists, book writers, producers, and musical enthusiasts. On Musicalwriters.com, William Squier and I comment on essential books about how to write a musical, describe festivals of new musicals, and more.
www.MusicalSchwartz.com/ - MusicalSchwartz.com is my independent site on the musicals of Stephen Schwartz. My husband and I started the website in 2000 as I was studying the musicals to complete the biography. MusicalSchwartz.com provides complete resources and background information for Godspell, Pippin, Wicked, Children of Eden, and many other shows and film musicals. Go here to find albums, sheet music, articles, and more.
www.Godspell.com/ - a home page for the musical Godspell with blog posts and more.
Podcasts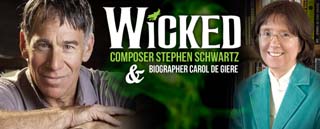 The Patrick Phillips Show March 9, 2013, with Patrick Phillips, Carol de Giere, and Stephen Schwartz, 25 minutes. Focuses on Wicked and the experience of writing. Patrickphillipsshow - Podcast
Playbillradio.com Podcast interview: Robert Viagas interview with Carol de Giere October 2008.
Playbill Podcast with Carol de Giere
Playbill Radio special guest is Carol de Giere, author of "Defying Gravity," a new biography of "Godspell" and "Wicked" composer Stephen Schwartz. She traces Schwartz' life from his childhood on Long Island through his amazing early successes, his mid-career challenges that almost made him leave the business, and his triumphant return to Broadway in recent years. She also tells how the book transformed her own life.
An Oz-themed interview at the Writers' Voices: KRUU Writers' Voices - Carol de Giere on Defying Gravity and The Wizard of Oz Prequel "Wicked"
The Book of Life podcast, posted March 1, 2011 The Book of Life - Carol de Giere interview
Frequently Asked Questions:
Q. How did you get started with your Schwartz writing?

A. In December of 1999 I joined a project with several hundred other freelance writers who were helping prepare a music website. We were supposed to spend 1-2 hours writing brief biographies of musicians based on information we found on the Internet. I was assigned to write about musicians whose last names start with the letter "S." After spending about 10 hours absorbed in the answers Stephen provided on http://www.stephenschwartz.com I was hooked. I decided to focus my writing efforts around Stephen Schwartz's work. With his permission I started my website, email newsletter The Schwartz Scene, and my book project.

I wrote Defying Gravity when Mr. Schwartz and his colleagues were in the middle of developing the musical Wicked so the book includes plenty of behind-the-scenes stories for the making of that show and others.

Q. Will there be a future edition of Defying Gravity?

A.That's my plan. Mr. Schwartz keeps writing musicals! I keep up with his work so that I can update the book.
Photo of Carol is by Terry de Giere